Brighter, more practical full-body shine design
Unlike traditional designs, this second generation lamp uses advanced inversion molding
and an auxiliary heat dissipation design to let the light emanate from the full body of the lamp.*
Fill the whole room with soft light to create a nice, warm atmosphere or just to light up the room for everyday use.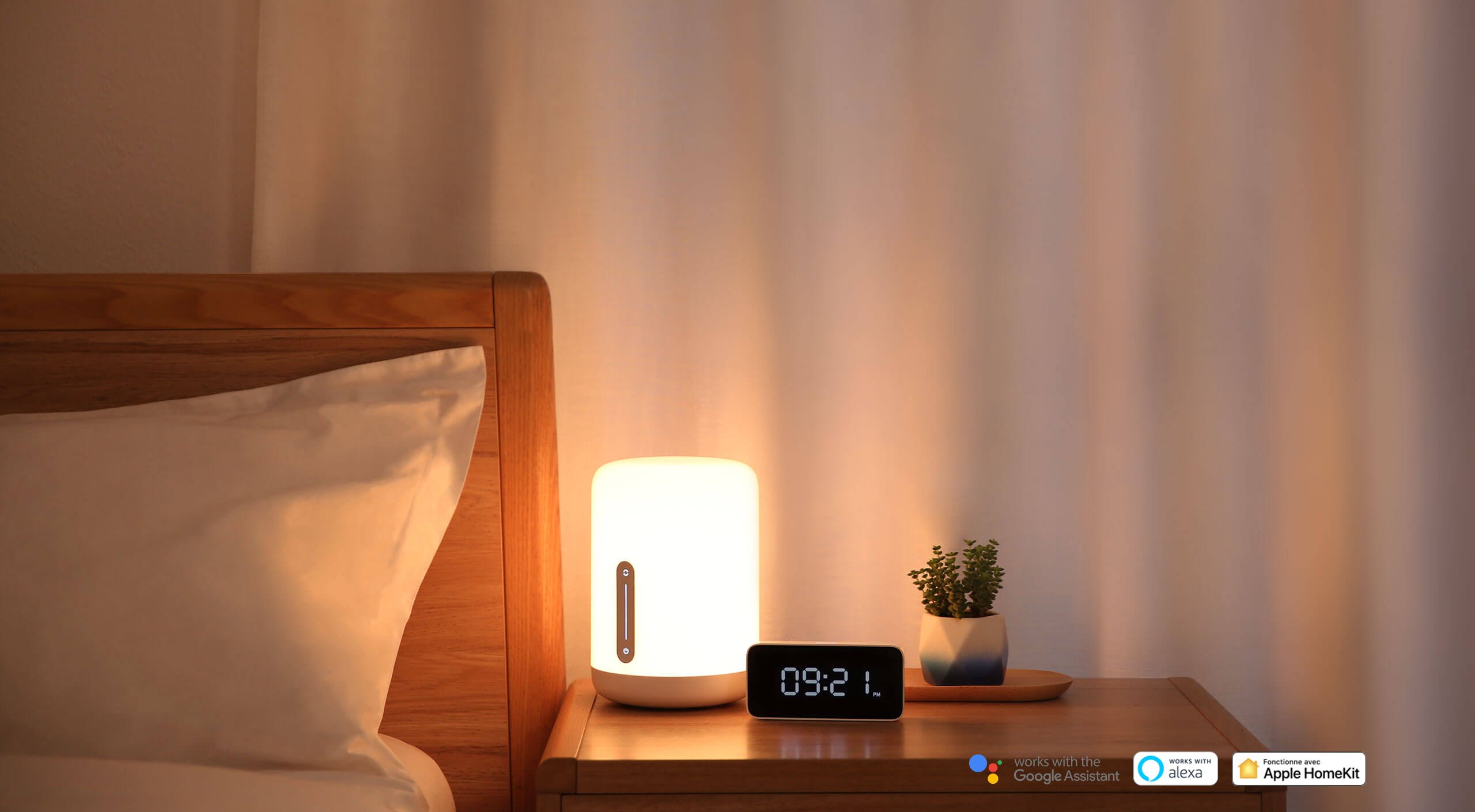 better lighting experience day or night
With brightness up to 400 lumens, the lamp can easily light up a typical bedroom.
At its lowest brightness of just 2 lumens, it can also be handy nightlight to help out your mind at ease as you sleep.
Wake up ready for the day
Like waking up to the sunrise, Mi Bedside Lamp 2
lets your body follow its natural circadian rhythm.
Fall asleep with your mind at ease
The lowest brightness off 2 lumens is enough to
put your mind at ease without disturbing your sleep.
Light mixing technology to set the perfect night atmosphere
Set the right tone with a top-of-the-line bulb combined with dual-layer light mixing technology.
Multicolored light is mixed evenly to create the perfect mood for the night.
Create a cozy mood
Enjoy the gentle light of Mi Bedside Lamp 2 as you curl up with a book
and make use of its touch controls for an easy experience that lets you feel right at home.
It's a more pure lighting experience that is brighter, looks better, and is easier to use.
Smart voice control lets you speak to turn the light on and off
The Mi Bedside Lamp 2 supports voice control, allowing you to step right into the age of smart lighting.
There's no need to ger out of bed to turn out the lights.
Simply turn the light on or off, or adjust the brightness, colour or colour temperature through your Amazon Alexa or Google Assistant.
Multiple ways to control your lamp
Connects with both Apple HomeKit and the Mi Home app, and can be connected to other smart devices
and even controlled by your Google Assistant or Amazon Alexa, allowing it to be full integrated into your
personalized smart home experience. The possibilities are only limited to your imagination.
"Hey Siri, turn the bedside lamp to yellow"
Usable with Siri and home apps on iPhone, iPad, Apple Watch, Mac computers. Control with a tap, with your voice, or even through automation for a simple and secure experience.